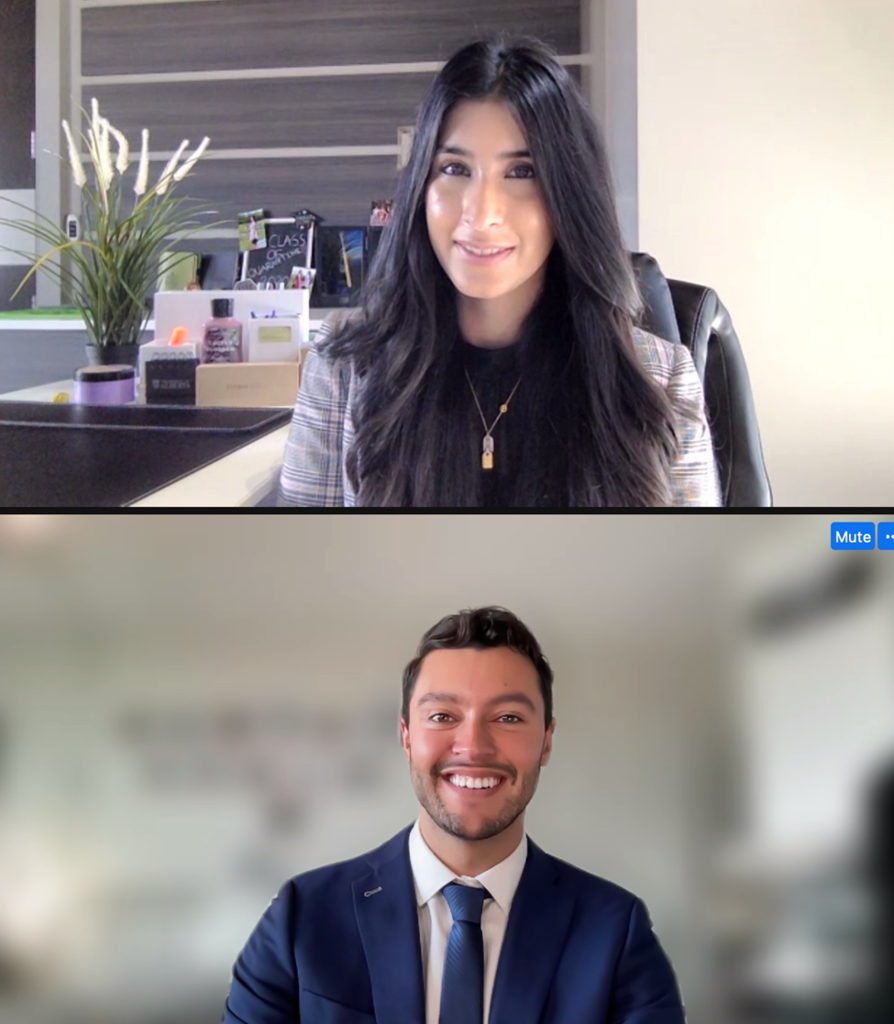 CONGRATULATIONS to Jessica Gill and Emilio Filomeno, along with their coaches Farrel Shadlyn and Danielle Mousseau.  The University of Alberta team won first place at the ICCC this weekend. This is Canada's first win since Osgoode took the title in 2013.  Below is a summary of the team's experience, provided by coach Danielle: 
"University of Alberta students, Emilio Filomeno and Jessica Gill, were thrilled to represent Canada in the Brown Mosten International Client Consultation Competition. Although disappointed that they were unable to travel to Wales, it was a fantastic experience meeting teams, coaches, and judges from around the world. Throughout the rounds, they received feedback from judges from the United Kingdom, India, Nigeria, Malaysia, Switzerland, the United States, and beyond – the different jurisdictional perspectives were fascinating and provided a lot of valuable insight as the rounds progressed.
The Team faced a very challenging semi-final round, where they were presented with a client who held controversial views regarding who should and should not be able to participate in women's sports. The teams professionalism was noted by the judges, particularly the manner in which they dealt with the client's comments in a empathetic and non-judgmental way. The team received further praise for their ability to summarize the client's issue in a detailed and comprehensive manner, and for the practical (non-legal) options they provided the client with. Following this round, the Team found themselves in third place heading into the finals.
The final round of the competition was by far the most gruelling round for the Team, and brought a host of challenges. The Team faced a tough legal problem, involving an email agreement from a film producer promising the client actress a starring role in a film, only to have the studio quash the idea. They had a very quiet client and they had to work hard to establish good rapport with her to try and get her to be more open. Lastly, they were faced with a few dreaded technological issues – needless to say, it was a hard fought round. Emilio and Jessica's hard work paid off, however, and they were elated to find themselves the winners of the competition! The judges praised Jessica's ability to summarize the client's issue in a thoughtful and thorough manner – noting that this is an example of how all client summaries should be done and that future competitors should take note of the same – high praise indeed! The Judges further commended Emilio on the practical solutions he offered to the client, and in particular, his ability to consider and convey the future implications that the options provided may have for the client.
Emilio and Jessica were thrilled to be a part of the competition. They are both ending their second year of law school on a very high note, and they are looking forward to delivering the trophy at the 2023 Brown Mosten International Client Consultation Competition!
It has been a joy to watch Emilio and Jessica gain confidence, grow, and flourish as each practice and competition round progressed – there is no doubt that these two have bright careers ahead of them!"